G-Philos G-φίλος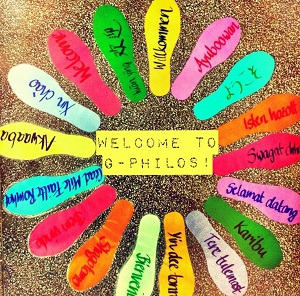 G-Philos is the space for international communication where students from Japan and abroad study together through mutual cultural understanding and language study.
-Location: Room# 221, B-1 Building on east campus and International Exchange Space at 2nd floor of Y Building on west campus. 
-Hours: Mondays – Fridays 9:00AM – 7:00PM (The one in Y building closes 5:00PM).
The room is available at anytime during the hours above and for any University of Yamanashi students.
-Things you can do @ G-philos:
  -Reading English Newspapers and using text books for language exams.
  -Using E-learning 
  -Eating and drinking are allowed, so you can just relax and enjoy hanging out with your frineds.
  -Support for English learning by Advisors or Student Assistants.
  -Support for Japanese learning by Student Assistants.
  -Learning various foreign languages at "Language Cafe".
  -International exchange events
  -Culture introducing or culture experience events performed by international students.
  -Japanese culture introducing or culture experience event.